BAL Level Max, the game-changing floor levelling compound from the market leaders in full tiling solutions, has been shortlisted for the Tomorrow's Contract Floors Awards 2016.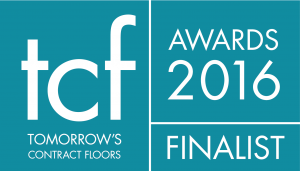 BAL Level Max, which is formulated with innovative Fibre Strand Technology (FST) and boasts a maximum bed depth of up to 80mm in a single application, has been nominated by readers of the magazine which is distributed to more than 58,000 tilers, flooring contractors and architects.
All nominated products will feature in the Tomorrow's Contract Floors Awards 2016 Guide, with an online readers' vote opening in January.
BAL Level Max combines the benefits of BAL's levelling expertise to provide users with a complete, all-in-one flooring product for preparing internal floor surfaces for the installation of tiles, natural stone, vinyl or soft furnishings.
Product performance recognition is so high with fixers and contractors that BAL Level Max has generated a like-for-like increase in demand of over 400% since launch, compared to all other previous BAL levelling compounds combined.
BAL Level Max also boasts a maximum bed depth of 80mm in a single application – the largest depth in the market – meaning it easily levels backgrounds with varying heights.
What's more, BAL Level Max only requires a bed depth of 3mm over timber, whereas many alternate products in the UK require a minimum bed depth of 10mm. This means BAL Level Max can provide over three-times more coverage than these products.
Alex Underwood, Head of Marketing at BAL, said: "We're delighted that BAL Level Max has been shortlisted for this industry accolade. What makes it even more special is the fact the product has been nominated by industry experts.
"Developed in conjunction with tilers and flooring contractors, we truly believe that BAL Level Max meets the needs of the market for an all-in-on leveller that delivers maximum performance without hitting customers in the pocket.
"In addition to outstanding performance, users of BAL Level Max also enjoy market-leading peace of mind on all installations with a complete 25 year guaranteed system solution and unrivalled technical support, including BAL Technical Advisory Service and on-the-road Product Support Technicians for project support from start to finish."
To find out more about BAL Level Max click here