Colours have been used throughout history as an unspoken language understood by all humankind and are popularly connected to seasonality and to mood.
Detail makes all the difference on tiling projects, which is why BAL – market-leaders in full tiling solutions – have introduced a range of new shades to the Micromax2 grout range that take influence from the natural environment and the changing seasons.
The 11 new shades take inspiration from the world around us and nature through changing seasons.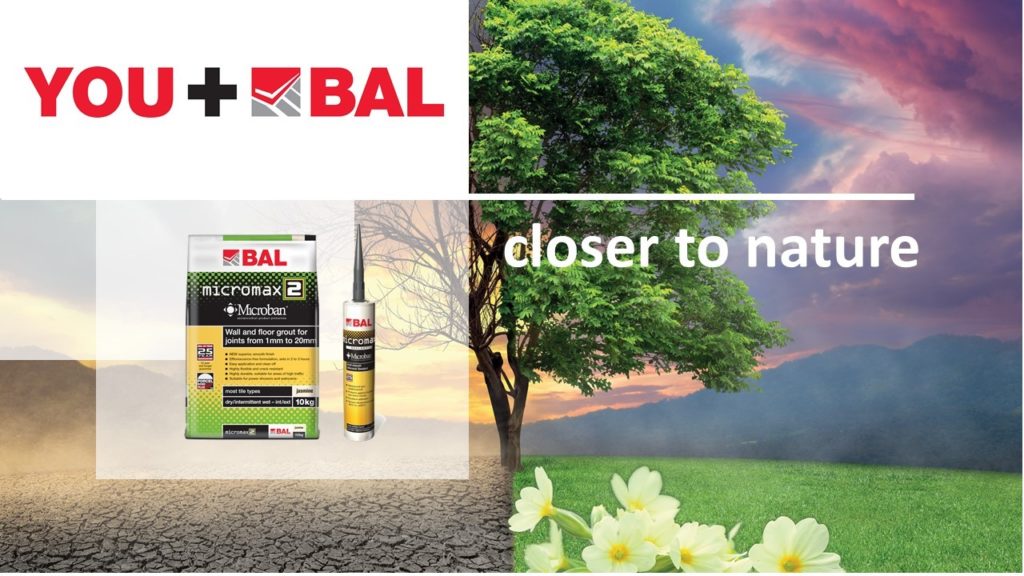 Four new Graphic Greys include: Storm Grey, Tornado Sky, Dovetail and Taupe Grey which are influenced by deep winter visions of dark and dramatic skies in every hue of grey.
Warm Woods; Walnut, Hazel and Mahogany evoke the rustic browns and earthen tones of Autumn.
Vivid Views featuring Primrose, Peppermint, Cornflower White and Pink Champagne evoke shades of greens, soft yellows and the natural light and vibrant splashes of Spring and Summer.
As urban design and nature collide and contrast, an ultra-modern vibe is guaranteed to delight the mind and senses and provide the perfect finish to any tiling project.
To find out more about these new colours, why not download our digital flipbook at https://mailchi.mp/building-adhesives.com/closer-to-nature
Unmatched Quality
Alex Underwood, Head of Marketing at BAL said: "Developed as a result of extensive R&D carried out in collaboration with tilers nationwide, BAL Micromax2 offers a combination of previously unseen properties to make it ideal for virtually any wall or floor installation.
"Its versatility removes the need for different grouts within a single installation: as BAL Micromax2 suits both the floors and the walls.
"The new colours offers fixers, homeowners and distributors alike a comprehensive suite of shades to complement or contrast with any tile type and tiling project."
Superfine, consistent, strong, flexible, the world's first genuinely universal grout, it can be used for grout joints as narrow as 1mm and as wide as 20mm with no slumping, shrinking and cracking.
Smooth, fine, consistent, versatile with in-built Microban anti-mould and anti-mildew protection, it sets within 2-3 hours for fast track tiling completion.
Now available in 20 striking shades to complement or contrast any tile or colour scheme, it also comes with a range of colour-matched silicone sealants (excluding Vivid Views).
Unlock potential for the materials used in your next tiling project to be just that touch closer to nature with BAL Micromax2.
Become a YOU+BAL partner to be kept in the forefront with our new innovations and order a Grout Sample case today at www.bal-adhesives.com