From our early beginnings Building Adhesives has been dedicated to quality and performance, committed to going above and beyond the required standards.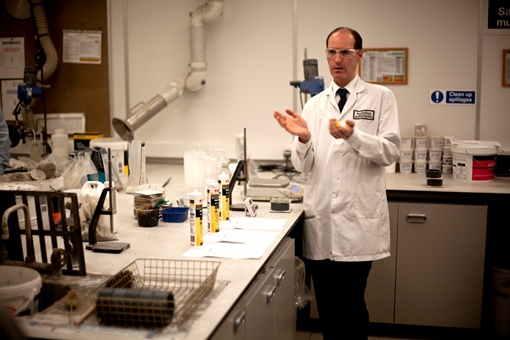 Quality and Performance
Having been set up specifically to produce high technology products with comprehensive technical advice – we have been and remain a key player within standards bodies BS 5385, EN 12004 and more which have all benefitted from our input.
The development, manufacture and supply of high performance products is our primary objective, and as such the quality of our products are only considered satisfactory when they are produced from approved materials, conform to the required formulations, are produced in accordance with the approved manufacturing process and they have been passed as fit for purpose.
Every single batch produced by the company is rigorously tested by our Quality Assurance team, and if it doesn't meet our high standards it will not be released.
Our Quality Assurance measures mean that our failure rate is less than one-hundredth of a percent of the total manufacturing output, and of those, 100% have been proven to be installation error.
We stand by our quality control procedures, which is why every BAL product comes with a 25-year guarantee.
Download Quality Policy Statement
Health and Safety
We are proud to be at the forefront of Health and Safety excellence in the industry going above and beyond industry standards to receive Best Practice accreditations.
We ensure we maintain all Best Practices and procedures necessary to ensure the health, safety and welfare at work of our employees, visitors and subcontractors through the mutual understanding of duties and responsibilities.
Our Health and Safety Policy is continually updated to meet any change in working practices or legislation, while our employees receive regular training and communication to ensure that safe working practices are understood by all concerned.
Download H&S Policy Statement
Investment in People
As a business we are committed to constantly improving our business. Constant improvement can only be delivered through continual encouragement and empowerment of all our employees to enhance their own skills and abilities, both individually and as a team to serve our customers better.
Our Accreditations
Environmental Management System 14001:2015
BAL has recently received a certificate of registration from bsi. that it successfully operates an Environmental Management System which complies with the requirements of ISO 14001:2015 recognising that the company's environmental policies enhance environmental performance, fulfill compliance obligations and achieve environmental objectives.
DOWNLOAD CERTIFICATE
Quality Management System ISO 9001:2015
Building Adhesives Ltd operates a Quality Management System which complies with the requirements of ISO 9001:2015 for the design, development, manufacture and supply of tiling products. To achieve ISO 9001:2015, Building Adhesives Ltd needed to demonstrate its ability to consistently provide products and services that meet customer and regulatory requirements and enhance customer satisfaction through improved manufacturing processes.
DOWNLOAD CERTIFICATE
Occupational Health and Safety ISO 45001:2018
BAL operates an Occupational Health and Safety Management system which complies with the requirements of BS ISO 45001:2018.
DOWNLOAD CERTIFICATE
Organisation Quantifying and Reporting of Greenhouse Gas Emissions – ISO 14064-1
BAL meets the requirements of Carbon Reduce certification having measured its greenhouse gas emissions in accordance with ISO 14064-1:2006 and committed to managing and reducing its emissions
in respect of the operational activities of its organisation.
DOWNLOAD CERTIFICATE
Modern Slavery Act
Building Adhesives Ltd is proud to meet all requirements of The Modern Slavery Act. An Act of Parliament of the United Kingdom, The Modern Slavery Act 2015 is designed to tackle slavery in the UK and consolidates previous offences relating to trafficking and slavery. The act extends to all companies and supply chains for businesses in England and Wales.
Download Modern Slavery Act Statement