Coming soon to a road near you!
As part of their drive for increased awareness across the UK, BAL – the market-leaders in full tiling solutions – have taken delivery of new truck trailers emblazoned in the manufacturer's distinct red BAL branding.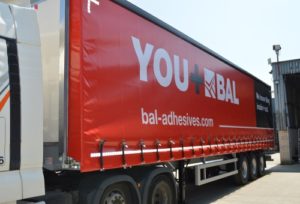 The trucks – which also feature BAL's "We know tiling inside + out" slogan – are being rolled out in the coming weeks in collaboration with Browns Group, the company's haulage partner.
Alex Underwood, Head of Marketing at BAL said: "You won't be able to miss our big red machines as they make their way from our factory in Stoke-on-Trent delivering high quality adhesives, grouts and tiling products to our network of near 750 stockists across the UK from Penzance to Inverness.
"The BAL brand is an iconic tiling brand having been founded in 1962, and these new lorry liveries will continue to showcase it across the UK."
BAL are also running a competition on Twitter and Facebook where users can win a BAL goodie pack if they spot one of the lorries out on the road and send in a photo – if it's safe to do so, of course.
Simply tweet your photo to @BALtiling or post it on BAL's Facebook page – https://www.facebook.com/BALtiling/.