BAL have launched a new one-coat waterproofing solution for bathrooms, wetrooms and showers prior to tiling.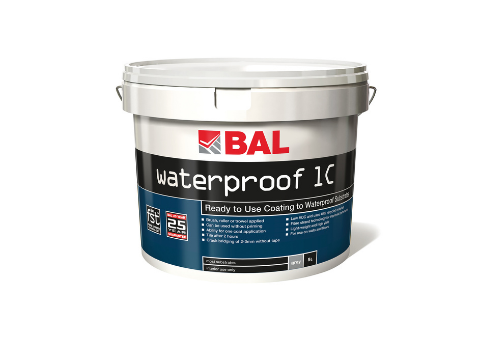 Available now, BAL Waterproof 1C is a ready-mixed tanking solution that can be used without priming on most common substrates* and is ready to tile after only two hours!
Formulated with fibre-strand technology for improved strength, it can be applied in one-coat on walls and floors with a brush, roller or 4mm notched trowel.
No additional tapes or matting are needed as it is crack-bridging from 2-3mm.
This innovative new product is lightweight with easy-to-apply rheology and provides excellent coverage of up to 6m² – making it suitable for domestic shower rooms, bathrooms or wetrooms.
BAL Waterproof 1C also has sustainable benefits with Low VOC and using 40% recycled materials.
As part of the launch, BAL is streamlining its current waterproofing solution by deleting BAL WP1 / BAL Waterproofing Kit – and old technology that will be replaced by the higher performing Waterproof 1C.
Continuing in the product range will be BAL Tank-it – a quicker setting 2-part powder and liquid product that can be tiled in only 90 minutes.
BAL Tank-it can also be used for large scale commercial projects and external waterproofing such as balconies and terraces.
Alex Underwood, Head of Marketing said: "BAL Waterproof 1C is a significant waterproofing innovation, greatly improving the performance of our former ready-mixed tanking solutions.
"In most instances, with no tapes or priming required, and being applied as a one-coat solution, BAL Waterproof 1C provides an easy waterproofing solution to ensure tiled wet areas are compliant with British Standards."
"The latest British Standards clearly state the importance of waterproofing installations such as in BS 5385-1:2018, which states 'In wet areas, e.g. showers, wet rooms and steam rooms, substrates should be protected with a suitable proprietary tanking membrane system' and our new BAL Waterproof 1C provides the fastest and easiest solution to achieve this."
"BAL Waterproof 1C applied as one coat with a minimum 0.8mm dry thickness – provides complete protection against water ingress, protecting backgrounds from water damage and erosion."
Additional advice on waterproof tanking system requirements for domestic and commercial wet areas is also given in BS 5385 Part 4: 2015
* Priming is only required on plaster, cement boards and BAL Board on the tiling side. Where priming is required in these three instances, then prime all surfaces with one coat of neat BAL Primer 1C and allow to dry for 15-30minutes.
For more information visit https://www.bal-adhesives.com/products/bal-waterproof-1c/