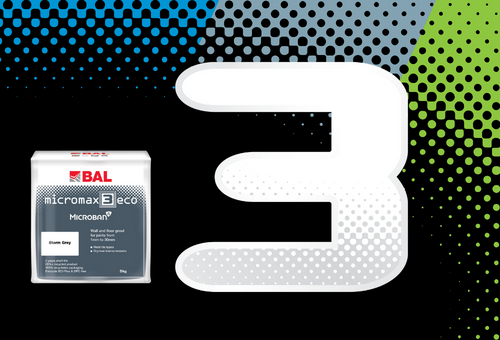 With all the qualities of BAL Micromax2, the new BAL Micromax3 ECO grout delivers enhanced product performance, improved useability and added eco-benefits.
Available in-store NOW, BAL Micromax3 ECO grout provides everything an installer needs, to easily provide a perfect finish. Available in 36 colours, with a range of matching silicone sealants.
Enhanced performance, greater control
With longer-lasting and improved Microban® antimicrobial protection providing non-hazardous protection against black mould and mildew, as well as an efflorescence-free formulation and locked-in colour consistency, Micromax3 ECO provides the ultimate long-lasting finish for your tiling project.
BAL Micromax3 ECO is OPC-free and sets in 2 to 3 hours for fast-track project completion. The new grout is now also suitable for swimming pools and can be used up to 30mm joints widths with no shrinking or cracking.
Despite the market-leading position of Micromax2, for the development of the new technology, further improvements were made to provide even greater control for fixers – including easier clean-off, even on textured tiles and less haze after initial clean-off.
BAL Micromax3 ECO is a lower dust formulation relative to conventional, OPC-based grouts – reducing waste and mess for the fixer, as well as being a safer product to use.
Easier to mix and apply – especially on walls with no slumping – BAL Micromax3 ECO also has improved colour consistency and is suitable for ALL tile types. The development of rapid-hardening chemistry means the water is maintained within the grout, virtually eliminating the risk of water staining even on natural stone.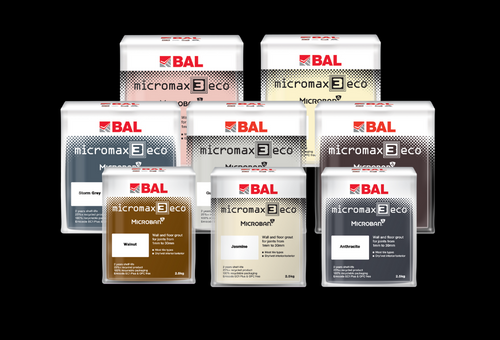 Sustainability without compromise
The world is changing and that means we must reduce our environmental impact.
Produced in recyclable packaging, Micromax3 ECO is manufactured with over 25% recycled materials with no loss of performance.
With an EC1 Plus EMICODE designation, Micromax3 ECO achieves the best classification under the EMICODE system. BAL Micromax 3 is also non-hazardous, whilst also providing excellent anti-microbial protection.
OPC-free for a reduced carbon footprint, BAL Micromax3 also has a 2-year shelf life in 2.5kg and 5kg sizes (with all packaging 100% recyclable) and grouts can be part mixed for multiple use. This ensures less waste on-site for the fixer, while being better for the environment.
Alex Underwood, Head of Marketing at BAL said: "The next generation of grouts, BAL Micromax3 ECO provides the leading technology to ensure a new benchmark in grout performance, with guaranteed long-lasting results and added eco-benefits.
"Micromax3 ECO delivers market-leading solutions, with all the benefits of Micromax2 including the use of >25% recycled raw materials; a superior smooth finish, high flexibility and durability time and time again.
"Tilers demanded and we listened, delivering advanced technology with greater useability including easier clean-off and less haze.
"Made in the UK, with 36 colours and a range of matching Micromax Sealants, BAL Micromax3 ECO delivers best-in-class results."
VIEW PRODUCT DETAILS
REQUEST GROUT CASE