Tilers nationwide can now source everything they need from a single supplier, all covered by a 25 year guarantee, thanks to BAL. The market leader in professional tile adhesives and grouts fully guarantees everything bearing its name, including BAL Rapid-Mat, its remarkable new uncoupling solution. This has taken the market by storm, being the UK's first and only uncoupling mat fully guaranteed for 25 years by the supplier.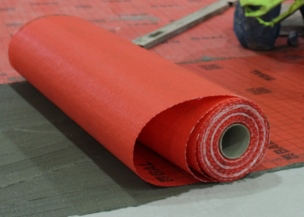 BAL Head of Marketing, Alex Underwood, said, "We understand how important a proper guarantee is to professionals and their customers. Everything we supply comes with a formal 25 year guarantee, so that fixers can have complete confidence in their first-choice tile adhesives, grouts, uncoupling solutions, levellers, primers and preparation products, sealants, admixtures and more. BAL has always believed that if a company really has faith in what it supplies, it will back it with a written guarantee."
Dave Stott, winner of the TTA Tiler of the Year award 2013, said, "Fixers do not want vague assurances from suppliers. We expect a clear, written guarantee so that we know where we stand with products. BAL is the only manufacturer to offer a straightforward 25 year promise, which it puts on its web site for everyone to see. Apart from the guarantee, which is even printed on the mat, BAL Rapid-Mat is so much better in every way than anything else. It is thinner, lighter and needs a lot less adhesive. Once you have tried BAL Rapid-Mat, you do not want to use anything else."
BAL Rapid-Mat is designed for problematic floors, such as those that may be subject to lateral movement stresses. It is perfect with underfloor heating, timber substrates and other challenging backgrounds. It reduces project time by being faster to install, as demonstrated here. It also delivers major cost benefits by using over 20% less adhesive than cavity-based uncoupling mats.
BAL Rapid-Mat is available through hundreds of stockists nationwide and, unlike other uncoupling mats, is covered by BAL's full 25 year guarantee.