BAL – market leaders for full tiling solutions – are revolutionising the standard-set category with new adhesive technology; BAL Flex One.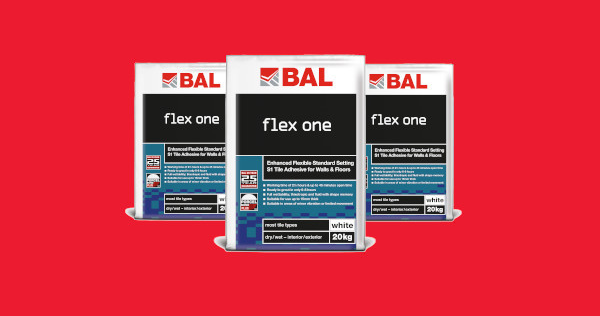 Fixers always want to finish an installation as quickly as possible. Often rapid-setting adhesives are preferred to ensure grouting can begin quickly. However, this can provide challenges during installation.
With its 'One' rapid-set technology, BAL have previously helped fixers with its rapid-setting products that provide significantly longer open and working times than all other rapid-set products but are still ready to grout in 3 hours.
With ever larger tiles growing in popularity, complex designs required, possibly difficult or irregular backgrounds on-site and even hotter temperatures being experienced now in the summer months; the use of even improved rapid-set adhesives still may not provide enough open, working or adjustability time for a fixer.
The UK market has seen other 'semi-rapid' products also launched, which are essentially based on over-retarded rapid-set formulations.
When traditional rapid-set chemistry is retarded to get a longer open and working time, there is a limit on how much the cement chemistry can be retarded before strength development is adversely affected.
Heavily retarded rapid-sets may also have performance limitations or suffer in on-site conditions where the required working and open times may not be achieved, as the product increases in viscosity and application becomes more difficult.
However, the new BAL technology is the first truly enhanced standard-set technology – developed from traditional standard-set chemistry as a basis.
Long open and working time performance will always be achieved more consistently using a standard set adhesive, or a product using this chemistry as a basis.
In response to customer demand, BAL's market-leading R&D team have developed an enhanced standard set adhesive with a long open time, excellent non-slip properties and may be grouted in as little as 6 hours. Something that has never been achieved before.
BAL Flex One provides a truly innovative technology that raises the standard.
Set Your Own Pace
BAL Flex One give fixers longer working and open times– but still has a faster setting time prior to grouting.
Outperforming other products with an excellent 2.5 hour working time and a 45-minute open time at 20°C – this allows more working time to fix in warmer conditions (and less wastage in buckets), more time to adjust larger tiles, and more time when working on particularly complex installations.
With a 6-hour set time, the new adhesive allows fixers to grout in the evening or early the next day – significantly cutting down installation time compared to traditional standard setting products that require up to 24 hours to set!
Freedom to Perform
Fixer friendly, BAL's new standard set technology also provides outstanding usability – helping to overcome the many obstacles that face fixers on a modern project.
With one of the thickest bed depths on the market for standard sets up to 15mm and, the formulation helps fixers to overcome some background irregularities where isolated building out may be required.
What's more, it utilises technology first developed by BAL including super smooth gel rheology, a thixotropic formulation with shape memory, and full wettability where there is no need to adjust the water content to get the full performance benefits.
The new adhesives also have superb non-slip performance, easily exceeding the requirements of EN 12004 for "T" rated adhesives.
A true all-rounder
Highly flexible with S1 deformability, BAL Flex One is suitable for use with all tile types including ceramic, porcelain, natural stone – mosaics, terrazzo, brick slips and uncalibrated stone (for floors).
Suitable for interior and exterior applications and in dry and wet environments, the adhesives are particularly recommended for large format wall and floor tiles and may be used for swimming pools and total immersion and showers.
Because of its flexibility, BAL Flex One can be used on installations subject to limited movement and vibration, plus underfloor heating, including heated cement; sand screed sub-floors and electric undertile floor heating cable systems.
BAL Flex One has excellent grab and can be used on existing soundly bonded unglazed ceramic tiles, quarry tiles, terrazzo and natural stone tiles .
The adhesives are white in colour, meaning that only one bag is needed whether you're tiling with natural stone, ceramic or porcelain tiles.