BAL Rapid-Mat, the revolutionary new uncoupling solution, has been voted by industry experts as "Best Innovation" at The Tile Association Awards 2015.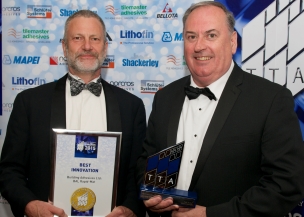 One of the most significant innovations in the uncoupling mat market for more than 15 years, the BAL Rapid-Mat is a new solution to accommodate lateral movement for tile installations encountered by fixers, contractors and specifiers.
What's more, BAL Rapid-Mat is the only uncoupling system on the market that is fully guaranteed for 25 years by the suppliers.
Alex Underwood, Head of Marketing at BAL, commented:  "Being named as the Best Innovation by industry experts is proof of Rapid-Mat's position as the cutting-edge solution in the uncoupling mat market. Delivering a number of unique benefits compared to traditional cavity mat systems. BAL Rapid-Mat gives fixers and contractors peace of mind that their projects will stand the test of time.
"Thinner, lighter and faster – the BAL Rapid-Mat has been highly engineered by our team of technicians and scientists to transform the uncoupling mat market and help meet the needs of the tiling industry."
Designed in conjunction with fixers, contractors and installers, BAL Rapid-Mat is designed for problematic floors, such as those that may be subject to lateral movement stresses. It is perfect with underfloor heating, timber substrates and other challenging backgrounds.
Furthermore, it helps reduce project costs and duration, requiring 20% less adhesive than traditional cavity uncoupling mats, which need almost "an extra layer of adhesive" to fill the surface cavities or dimples. The saving amounts to using 1.5 kg less adhesive per square metre, a major saving of 45 kg adhesive per 30 metre roll.
BAL Rapid-Mat saves more time on-site by being faster and simpler to lay than other mats, due to its lightweight profile and printed cutting guidelines. In addition it can be laid either side uppermost, unlike cavity-based mats which require cavities to be on top. Each piece of BAL Rapid-Mat is simply butt-jointed to the next, without the need to buy and apply additional tapes.
Being only 1mm thick, compared to 4mm for other traditional cavity systems, means it also occupies less storage space. A full 30 metre roll also weighs just 8.5 kg, making it easy to transport and carry around the site. The slimness also makes it ideal for laying over existing tiling, as it offers a minimal increase in floor height.
BAL Rapid-Mat is available through hundreds of stockists nationwide and can be purchased by the roll or by the metre.
The annual TTA Awards are the most prestigious awards in UK tiling industry, recognising excellence throughout the industry. This award is the latest in a long series of TTA successes for BAL, the long-established market leader in professional tile adhesives and grouts.