BAL have launched a new and improved flexible thick-bed tile adhesive for large format floor tiles.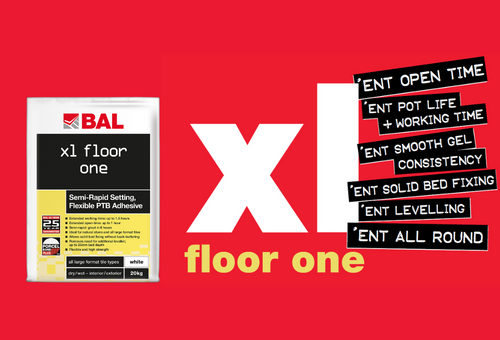 Replacing BAL Pourable One on its range, BAL XL Floor One is a significant upgrade with XL-ent extended open time and XL-ent working time – taking some of the stress out of large format floor tiling.
Extended open and working times of the gel rheology of XL Floor One mean the adhesive remains wetter, smoother and creamier for longer – making for XL-ent workability.
BAL XL Floor One is easy to work with and apply and with an extended pot life of 90 minutes and open time of 60 minutes, fixers can confidently spread over larger areas for ease – have plenty of time to adjust tiles as they work – and ensure they have no product wasted by going off.
A true "overnighter", BAL XL Floor One can be grouted in 6 hours, ensuring fast track project completion the next day.
Mixed with a reduced water content of just 4 litres per 20kg bag, BAL XL Floor One holds its high-gel shape when trowelled with ribs sitting proud even up to 25mm without any slumping – yet ribs will collapse easily when tiles are vibrated or twisted for solid bed coverage.
Crucially this means that back-buttering is not always required with flat backgrounds and tiles!
If needed, BAL XL Floor One can be built up to 25mm bed depth for levelling small areas or patch repair – while also making it perfect for uncalibrated natural stone where consistent bed depths can't always be achieved.
With a flexible and strong bond, BAL XL Floor One is also suitable for laying BAL Rapid-Mat or BAL Flexbone VAried uncoupling mat when spread with a 4mm notched trowel.
External porcelain
Water and frost resistant, and with large bed-depths, BAL XL Floor One is BAL's recommended tile adhesive for laying porcelain, ceramic or natural stone on external concrete beds.
Even on tampered concrete, BAL XL Floor One provides excellent coverage for 20mm porcelain pavers and other external tiles.
Alex Underwood, Head of Marketing, said: "After listening to our fixers and contractors, we have developed a new floor tile adhesive that provides better workability when tiling large format floor tiles and panels which are seemingly getting bigger year-on-year.
"The improved working and open times give fixers that bit longer to trowel, move, install and adjust large tiles and panels – without worrying that the adhesive may skin over on the floor or go off in the bucket. This may seem minimal – but in reality, this makes a huge difference within installations.
"BAL XL Floor One can be used up 25mm bed depths if necessary for small levelling or patch repair, while back-buttering is not always necessary either saving significant project time and costs.
"Smoother and creamier to use, contractors have praised the workability and usability of the product compared to other thick-bed floor adhesives – making for easier and quicker large format tiling."
For more information on BAL XL Floor One visit www.bal-adhesives.com