More than 170sqm of flooring was transformed with a stunning herringbone tiling , while three bathrooms – including a ensuite-style shower room, a luxurious main bathroom and fully accessible bathroom/wetroom – have been completed in Carlton using a full BAL tiling solution.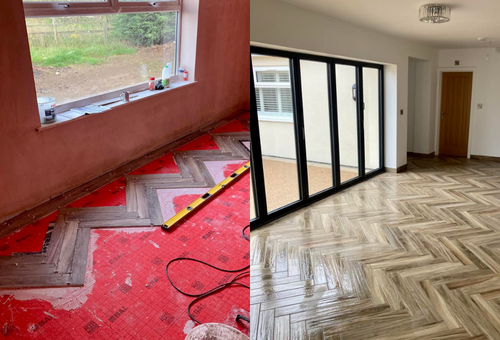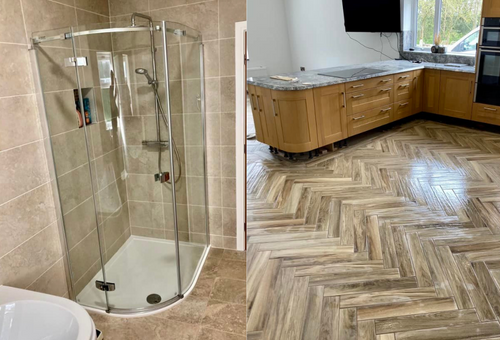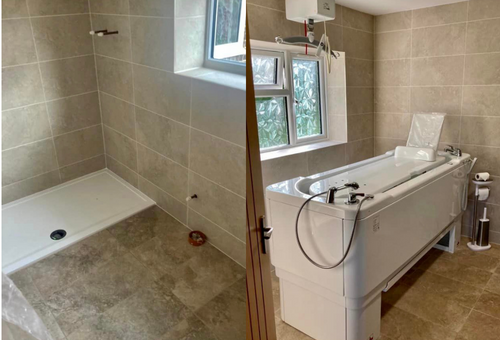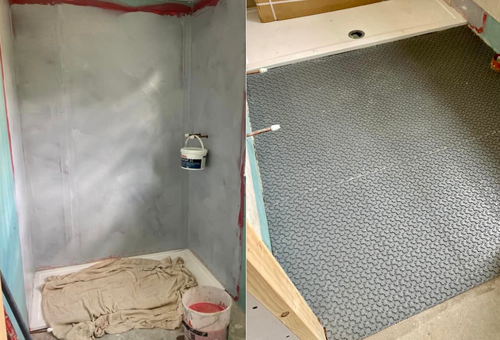 Steven Timmins from Timmins Tiling Ceramics, with support from Gary O'Neill of Taps 'n Tiles, completed this epic 2-phase project with tiles supplied by Discount Tiles & Stone and BAL materials from CTD.
The full project was first inspected by BAL National Training and Technical Support Manager Lewis Lupton who completed a full write-up of the spec needed for the job.
The first phase of the job was 80sqm of beautiful herringbone tiles complete with border and tiled skirts fixed over a water-fed underfloor heating system and screed. The screed was prepared with BAL Rapid Mat uncoupling mat to keep any movement in the subfloor at bay, creating a buffer layer between screed and tile.
BAL Rapid-Mat thin lightweight uncoupling was then laid using BAL Rapid-Flex One adhesive, before the tiles were fixed using BAL Flex One, and grouted with BAL Micromax3 ECO in Walnut and finished with BAL Micromax Silicone.
Steven then worked to transform the three bathrooms to a whole new level using stunning 600x300mm porcelain tiles covering bother walls and floors.
All the wet areas were tanked with BAL Waterproof 1C– helping to keep the walls and floors safe from water damage and black mould.
The flooring needed to be level throughout, so the shower area that was connected to the utility room had BAL Flexbone VAried bonded fleece-backed, waterproof uncoupling mat laid which was added mainly to give Steven the extra height needed as the utility room was to be self levelled.
The bathrooms were finished with BAL Micromax2 and Micromax3 ECO grouts and BAL Micromax Silicone – in Jasmine on the walls and Pebble for the flooring.
Steven then moved onto the second phase of the project, where 90sqm of BAL Level Max and Level Fast levelling compounds were used to make the concrete substrate workable, level and ready to tile with more herringbone flooring.
Steven said: "After 7 years of flying solo, this was one of my most massive undertakings yet, and my nerves were buzzing.
"Unexpected twists turned this into a thrilling 2-phase project, made possible by one of the best customers I've ever had.
"Big thanks to Gary O'Neill for all his help in this 1st phase of the job, and a huge shout out to Discount Tiles & Stone, CTD Trade and BAL for top notch materials.
"I only ever use top-quality BAL materials from start to finish, giving my customers a rock-solid 25-year guarantee."
Full list of BAL products used on the project include:
BAL APD primer
BAL Rapid Mat
BAL Flexbone VAried
BAL Rapid Flex One adhesive
BAL Flex One adhesive
BAL Waterproof 1C
BAL Primer 1C
BAL Level Max
BAL Level Fast
BAL Micromax 2
BAL Micromax3 ECO Grout
BAL Micromax Silicone