Set in the beautiful Upper Calder Valley in Yorkshire, Smith Hill House is a £4.5 million new build property with delicate features matching the local surroundings.
High quality tiling has been carried out throughout the property by Ian Cartmell, from Cartmell Tiling and Plastering, with product supplied from Topps Tiles.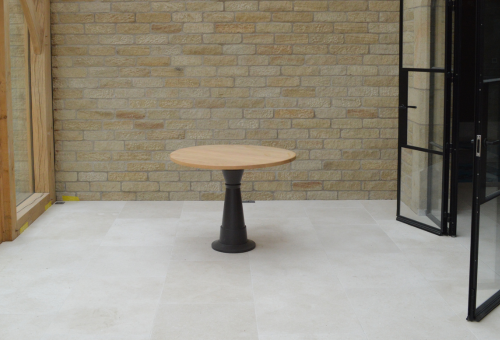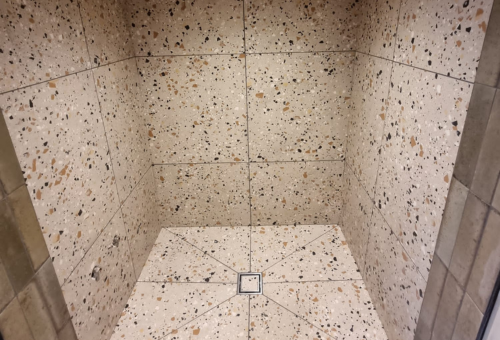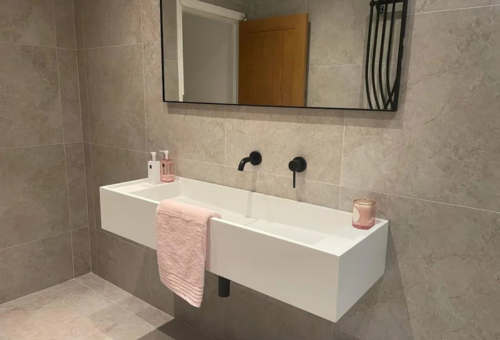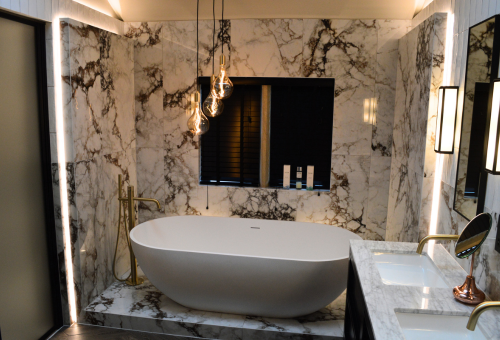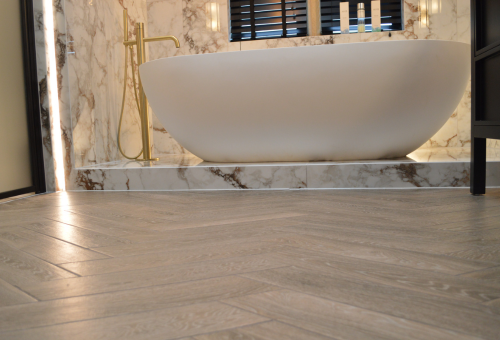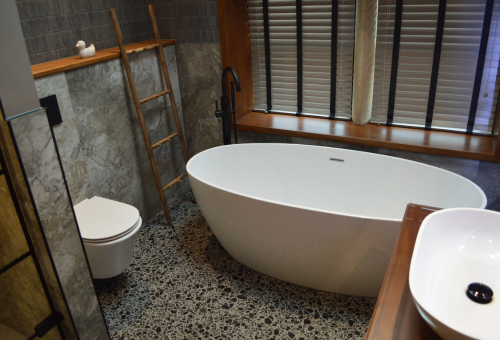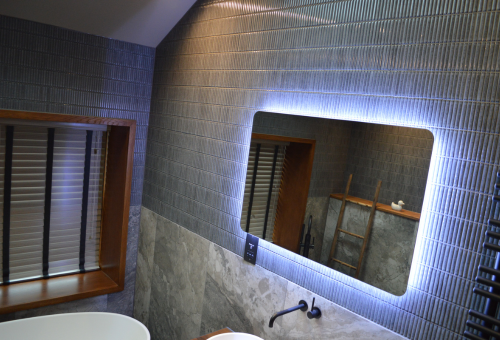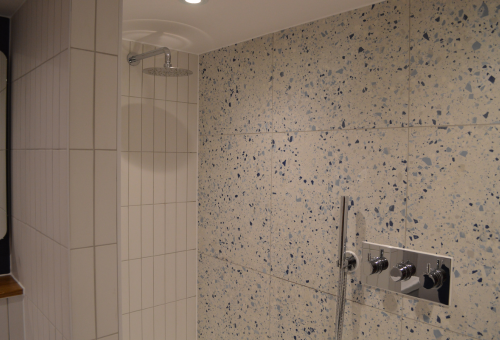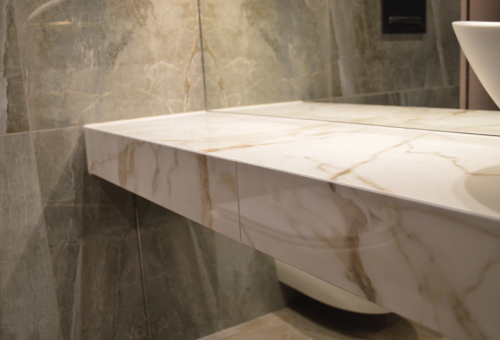 Downstairs floor
The first floor of the property features a stunning 267m2 Egyptian limestone floor from Mandarin Stone. Laid onto an uncoupling system and fixed with BAL Flex Fibre Plus, the limestone tiles were intricately scribed by Ian to match the bespoke internal natural stone walls, and reclaimed stone fireplace feature.
Sealed and grouted with BAL Micromax2 Jasmine grout, the floor makes for a spectacular space for living and entertaining that will last the test of time.
Master Ensuite
Perhaps the pièce de resistance of the property is the spectacular master ensuite, featuring an elegant book-matched Mistral Vista White marble feature wall with interior lighting, bespoke herringbone floor with Andora Grey Ash Chevron wood effect porcelain, and shower rooms with intricate drain cuts and internal, resin-filled mitred tiles.
The room also featured rustic Berlin Cotton ceramic wall tiles and Terrain Thorn porcelain tiles in the toilet area.
If you look closely, you can see the detail of the book-matched marble running perfectly through the wall columns – this was all fixed and matched from one tile, mitred and resin-filled.
Ian had to work around an out of square room, turning the floor by 2 cm to ensure the edging strip matches the threshold of the adjacent bedroom floor.
All fixed with BAL adhesives, the room perfectly matching the decadence of the roll-top bath and bespoke fittings, the main bathroom is an incredible example of top-quality workmanship matching the brief from client and designers Holt Living.
Girls bathroom
Each bathroom was designed and tiled to a bespoke specification from the client – and that is no more evident than in the girls bathroom.
Built-out and prepared with WEDI board – as are all the main bathrooms and toilets – the girls bathroom is tiled with Terrazzo Nouveau Cobalt Matt Porcelain tiles with a blue shimmer effect, to match the client's daughter's favorite colour.
Panelling was tiled with Oska Linen Matt Porcelain tiles.
Care was made to ensure that the tiles ran in line and matched to the protruding store cupboard – also designed and built by Ian.
Again tiles were fixed with BAL Flex Fibre Plus, and grouted with BAL Micromax2.
Boys bathroom
A beautiful example of a well-designed and tiled bathroom, the "boys bathroom" at Smith Hill House includes a stunning ground Pebble Grey porcelain tiled floor, and an intricate slender Iggy Grey Gloss Porcelain Mosaic.
The lower half of the wall, bath surround and shower room feature a natural stone effect large format Silica Taupe Porcelain.
Soft lighting and bespoke fittings make for a luxurious bathroom space.
Guest Ensuite
A classic and elegantly designed ensuite toilet and shower room, this room includes stunning Mimica Bianco Revenna Gold Mat Porcelain, with intricate Calacatta Amber Honed Marble Herringbone Mosaic detailing above the sink
Wood-effect Jacob Pine Porcelain wall tiles were added following a recommendation from Ian, and provide a perfect surround for the toilet and mirror, with tiles running from floor to ceiling for a seamless effect.
Smooth contours and a soft finish ensures a delicate and peaceful setting for visitors.
Downstairs WC
Also designed by Holt Living, the downstairs WC is a beautiful example of convenience and style.
The floor is tiled in Henley Thistle wood-effect floor tiles, inspired by parquet flooring. The back-wall features stunning Elegance Merino Grey polished porcelain.
However the stand-out element of the room is a stunning basin ledge, tiled with Dorset Calacatta Oro marble-effect porcelain tile, which is expertly mitred and resin-filled.
Dog Shower
Finishing off the project is a bespoke Dog Shower tiled with Hoxton Olive Gloss Porcelain and Terrazzo Nouveau Cognac Matt Porcelain. All prepared with WEDI board.
BAL Products Used:
BAL Micromax Sealant Smoke, Ash, Ebony, Brooklyn
BAL Max Flex Fibre
BAL Flex Fibre Plus
BAL Micromax2 Grout Jasmine – limestone floors
BAL Micromax2 Natural Light
BAL Micromax2 Regal Grout Ash
BAL Micromax2 Regal Grout Vanilla
BAL Micromax2 Brooklyn
BAL Micromax2 Coffee
BAL Micromax2 Gunmetal
Tiles
Ground Floor Area:
267m² Classic Lyon Tumbled Free Lengthx600x13mm
Country of origin: Egyptian Limestone
Boy's Bedroom:
13m² Iggy Grey Gloss Porcelain Mosaic 12x92mm Chip
22m² Silica Taupe Porcelain 1200x600x12mm
10m² Pebble Grey Porcelain 600x600x10mm
Girl's Bedroom:
8.52m² Terrazzo Nouveau Cobalt Matt Porcelain 600x600x10mm
10.2m² Oska Linen Matt Porcelain 246x60x8mm
1.2m² Oska Navy Matt Porcelain 246x60x8mm
Guest Bedroom:
18.72m² Mimica Bianco Ravenna Gold Matt Porcelain 1200x600x12mm
8m² Classic Petra Sand Matt Porcelain 600x600x9mm
12.68m² Jakob Pine Porcelain 1510x240x11mm
4 sheets of Calacatta Amber Honed Marble Herringbone Mosaic 15x75mm Chip 325x260x10mm
Dog Shower/Downstairs W/C:
5m² Hoxton Olive Gloss Porcelain 240x60x10mm
11m² Terrazzo Nouveau Cognac Matt Porcelain 600x600x10mm