Adhesive technology has come a long way from the traditional methods of sand and cement fixing – and boy has it needed to.
Back in the 1960s it was recognised that adhesive technology was not keeping up to speed with the demands of new substrates and tile types and traditional fixing methods were becoming redundant.
To bring the industry up to date, the British Ceramic Tile Council set up Building Adhesives Ltd in 1962 to develop and manufacture a new range of high quality "new technology adhesives" backed by a comprehensive Technical Advisory Service.
The first products rolled off the line in February 1963 and in BAL's first years, fixers welcomed the arrival of BAL TAD – its first ready-mixed adhesive – as well as the first BAL Grout.
Alongside research and development, BAL broke new ground by submitting products for independent evaluation by the CVRA (now CERAM). It set the standard for all future BAL products: rigorous pre-launch testing, then quality testing throughout production
The further development of substrate types, other system materials, the increase in porcelain and natural stone usage and development of large and extra-large format tiles, combined with site demands have meant the development of modern adhesives.
BAL has always been at the forefront of new fixing technology introducing industry-firsts such as the first epoxy grout, first tile adhesive using rubber crumb technology, first variable-setting tile adhesive, and first anti-bacterial grout.
To this day, BAL continues to develop innovative technology and products to respond to the changing habits of the UK tiling and flooring market. One such development is the introduction of Fibre Strand Technology, or FST.
First developed for BAL Max-Flex Fibre in August 2013, FST is one of the most significant innovations in the manufacture of powdered adhesives to hit the market in recent years and is now common-place throughout the industry.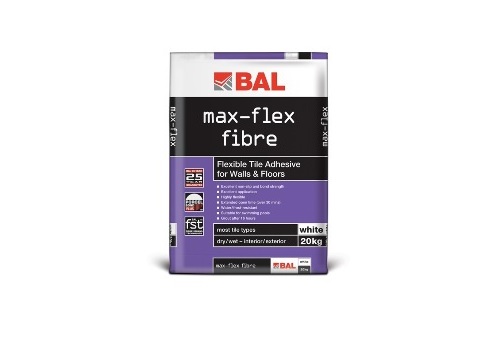 Developed in conjunction with fixers and contractors, FST is the result of exhaustive investigation into the use of certain microfibres combined with high-quality, super-smooth, spherical fillers.
The microfibres deliver greater adhesion strength, grab and non-slip properties, bringing improved performance alongside extended open times. The improved consistency and smoothness mean the powders are easier to mix, and simpler and faster to trowel out and apply. The greater open times, achieved with no lengthening of drying times, enable much larger application areas, speeding up installation time.
BAL became the first adhesive manufacturer in the world to introduce FST into ready-mixed adhesives in August 2013 with the launch of BAL White Star Plus. It has also been into introduced into BAL's all-in-one levelling compound BAL Level Max.
Following its introduction to the market, FST has been introduced into several rapid-setting tile adhesives including new BAL Rapid-Flex One which has an extended open time of 30 minutes and working time of 60 minutes – but is ready to grout after only three hours. This gives fixers all the speed and all the control, which two times longer working time and three times longer working time than most other rapidsets.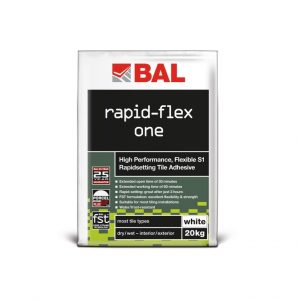 BAL has also been the forerunner of developing pourable adhesives such as new BAL Pourable One – which can be used up to 25 mm for large format and natural stone tiles – ensuring that the correct coverage has been achieved even with uncalibrated stones.
Rapid-setting in three hours and highly flexible, BAL Pourable One is ideal for underfloor and undertile heating, areas of total immersion and installations subject to limited movement and vibration. It can also be used for patch repair.
Both BAL Rapid-Flex One and BAL Pourable One offer a breakthrough in adhesive technology with a new white colour allowing it to be suitable for use on all tile types, yet available for the same price as a grey adhesive product.