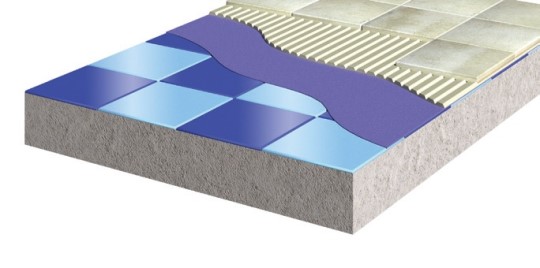 When faced with tiling over vinyl tiles we would recommend the following:
Ideally remove, mechanically, about 80% of the old vinyl adhesive residue, exposing the concrete floor beneath.
If you are able to do this using a long handled scraper, needle gun (if appropriate) or other type of suitable mechanical abrasion tool, direct fixing of the ceramic tiles may be carried out using e.g. BAL Rapid-Flex One or other suitable BAL Adhesive depending on the background.
Priming should only be necessary if the exposed concrete appears to be porous/absorbent after treatment to remove the residues. In this is the case vacuum off all loose dusty material from the surface and prime use BAL Prime APD (Diluted 1:1 by volume with water).
If you are not able to remove 80% of the residue, then providing all of the loose vinyl adhesive residues are removed mechanically and the remaining residues are sound and well bonded to the concrete , apply BAL Level Max in a minimum 3mm bed depth and allow to dry for at least 4 hours before tiling commences.
If you are unable to remove the old vinyl tiles, you can also level them with BAL Level Max, provided they are primed with BAL Bond SBR (undiluted ).This can then be tiled after 4 hours.
6. If the existing vinyl tiles are clean,solid and flat BAL Rapid-Flex One can be used direct onto the vinyl tiles without the use of a BAL Bond SBR.
If the floor is part of a wet room i.e. water via the shower head falls directly onto it, then it is essential to ensure that some form of waterproof tanking layer is in existance and located within the floor construction in order to prevent water penetration through the floor. We would recommend a product such as BAL Tank-it.
If you still require technical assistance, why not call our Technical Advisory Service on 03330 030160