When tiling in wet areas such as bathrooms, showers, wetrooms, pools, etc. it is vital to make the correct waterproofing product selection to avoid costly failures.
Ensuring your wetroom, bathroom or shower installation is fully waterproof is perhaps the most important part of any tiler's work, because tiles, tile adhesive and tile grout on their own will not inherently protect against water damage.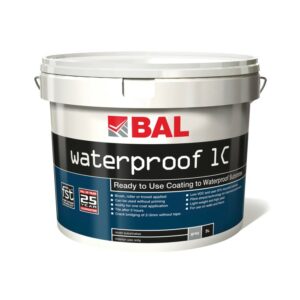 BS 5385 Part 4 states that the use of a ceramic tile together with an impervious tile grout and tile adhesive are not a substitute for a tanked shower or wet room installation. The effects of water damage are well known, documented and costly.
Therefore incorporation of a suitable waterproof membrane is a prerequisite for all wet room/shower applications. This might be either within the building structures or ideally on the substrate surface prior to the application of ceramic of natural stone tiles.
Surface tanking membranes are ideal as they can prevent water from tracking through a porous background into other areas.
In a wet room, waterproofing should always be specified on both walls and floors.
BAL now has two waterproofing systems for waterproofing these important applications prior to tiling – BAL Waterproof 1C – a ready-mixed tanking system, and BAL Tank-it, a two part system.
BAL Waterproof 1C is new, easy-to-use tanking slurry that can be used straight from the bucket.
Suitable only for internal applications and can be used without priming on most substrates including plasterboard, cement:sand renders, concrete, BAL Board (smooth side) and BAL Rapid-Mat.
Formulated with fibre-strand technology for improved strength, it can be applied in one-coat on walls and floors with a brush, roller or trowel.
This innovative new product is lightweight with easy-to-apply rheology and provides excellent coverage of up to 6m² – making it perfect for waterproofing domestic shower rooms, bathrooms or wetrooms.
Continuing in the product range is BAL Tank-it – a quicker setting 2-part powder and liquid product that can be used to waterproof backgrounds prior to tiling and can be tiled in only 90 minutes.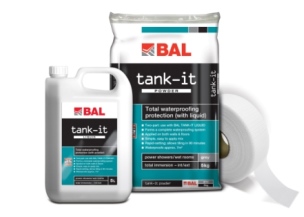 BAL Tank-it two-part product conforms to BS EN 14891 classification, meaning it is suitable for internal and external waterproofing including terraces, balconies and even fountains, as well as full immersion project such as swimming pools, hot tubs and spas.
Before tanking any background always ensure that it is flat, clean, dry, sound and free from contamination.
For example you may need to render walls. Alternatively on floors you would use a floor levelling compound such as BAL Level Max, to ensure SR1 surface regularity (3mm under 2m straight edge) as per BS 5385 Part 3.
With some waterproofing / tanking products it may be necessary to prime the background first always check with the manufacturer and especially on up-to-date Technical Datasheets.
Make sure that all corners, junctions, penetrations and cracks in the substrate are adequately covered with scrim tape – this stops the tanking slurry from seeping into the background or substrate. Cracks showing vertical displacement must be treated/repaired first.
The tanking mixture can then be applied – usually with just a roller, brush, float or notched trowel.
Once applied, leave the tanking slurry to dry – this can be anything from 90 minutes with a product such as BAL Tank-it, or 2 hours with BAL Waterproof 1C.
When selecting the right tile adhesive and tile grout for your wetroom, shower or bathroom, a number of factors need to be taken into account including the substrate, type/size/weight of tiles and the environment.
For more information speak to your local BAL Areas Sales Manager or BAL Technical Advisory Service.
UPDATE:
In July 2018, the British Standards Institute (BSI) introduced changes in regulations for tiling in wet areas.
Under the new revision, if you are tiling a wet area, a suitable tanking membrane should be fitted first.
British Standards already support waterproofing in commercial wet areas. But under the new regulation, it is now recommended that domestic locations be waterproofed as well.
A wet area is considered to be any wetroom, bathroom, shower area, steam room or any other location that is subjected to frequent water contact. This means that it isn't just wetrooms that must have tanking membranes.