With today's requirements for faster installation of tiling and the use of more demanding substrates, uncoupling matting and membrane are being used more frequently and in some cases a necessity.
Uncoupling principles have actually existed for centuries with the Romans being the first documented users of the building process which incorporated an "uncoupling" method.
These early practices used a mud bed to separate the substrate (a two-inch thick layer of packed and flattened sand and cement) and the tiles. Both systems use the separating later to provide an uncoupling buffer between the tile and the substrate, enabling the substrate to move independently to the tiles. Modern uncoupling system methods have dramatically improved, but the same basic principles still apply for today's uncoupling mat systems which are now in common use on floor tiling installations onto a variety of different substrates.
Coming in many forms, from thin, lightweight matting such as BAL Rapid-Mat, traditional cavity mat systems like BAL Flexbone VAried, or truly uncoupled floating systems such as BAL Flexbone 2Easy for unprepared screeds, they give tilers and contractors piece of mind when floor tiling. Designed to provide a buffer layer when tiling onto floors, they protect against a variety of problems that can cause tiles to crack or de-bond.
One common problem is the potential for the substrate to contract or expand. In particular, newly-laid sand:cement screeds or concrete may contain large amount of moisture, which as evaporates, causes the screed to shrink. However, all substrates will expand and contract naturally due to humidity and/or temperature fluctuation and this is especially true where under floor or under-tile heating has been installed. What's more, certain water-sensitive substrates, such as anhydrite screeds (or calcium sulfate) will lose their cohesive strength if they get wet. Wood is a hygroscopic material, and this, therefore, increases the potential risk of dimensional changes occurring within boards due to moisture expansion and drying shrinkage movement resulting in lateral movement stress being generated between the board background and the rigid ceramic tile finish.
Any movement, whether shrinkage or expansion, can cause stress cracks that can transfer through to the tiled surface, causing the tile to either fracture, or de-bond from the background. Uncoupling matting helps to prevent these lateral stresses from transferring through to the tiled layer by absorbing these stresses and transferring them evenly over the floor. Matting also has the ability to bridge static cracks i.e. shrinkage cracks up to 2 mm wide and joints between sheet & board backgrounds.
Another of benefit of modern matting systems is their suitability for waterproofing. In areas subject to moisture exposure where additional movement can occur, uncoupling mats can be used in conjunction with tanking products such as BAL Tank-it to ensure a combination of waterproofing and uncoupling can be achieved. When waterproofing or no priming of the matting is required, such as with BAL Flexbone VAried uncoupling mat, do ensure that the membrane and liquid coating can interface with the chosen drain. It is worth noting that anhydrite screeds and gypsum-based materials are not considered suitable for the installation of wet areas.
While the uncoupling membrane was originally devised for the installation of ceramic tiles, uncoupling systems are now recommended for use when tiling natural stone on all substrates. Importantly, uncoupling mattings are now recognised by most floor trade associations related to the tiling industry as a major benefit. Both the TTA and the Stone Federation of Great Britain recognise the value of using these products and also gives reference to their use in BS 5385 part 3, 4 and 5.
A great advantage of modern uncoupling matting systems, such as BAL Rapid-Mat, is their ease of storage and installation. Rapid-Mat, for example, is extremely lightweight and weighs just 8.5kg per 30m roll.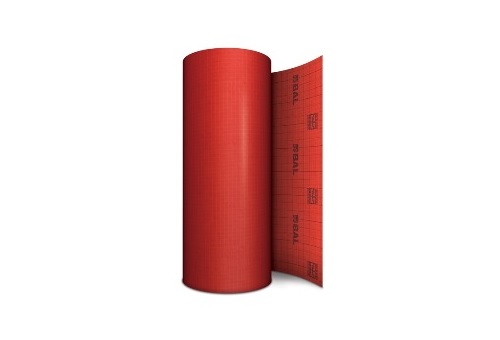 Its printed gridlines make cutting and trimming around up-stands extremely easy with only a pair of scissors or a utility knife. Once the mat has been cut to size and the floor has been correctly prepared, free from dirt and debris, a bed of suitable flexible tile adhesive should be trowelled on using a 4mm x 4mm notched trowel. Flexible adhesives should always be recommending when tiling onto substrates at risk of lateral movement. The trimmed matting should then be laid onto the freshly applied adhesive bed ensuring that it is applied within the open time of the BAL adhesive selected.
BAL Flexbone
If you want a traditional cavity mat system, why not choose a product such as BAL Flexbone VAried.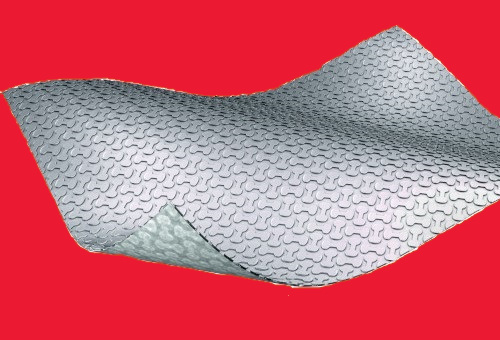 Unique to BAL Flexbone is the patented GripLock Technology and unique bone structure.
The patented design has been independently tested to provide the highest shear strength (providing more accommodation of higher levels of lateral movement) and the highest tensile strength (to stops tiles 'popping-off', or cracking under pressure). These highly flexible and deformable properties ensure all tile installations are protected from lateral movement and pressures, while a special fleece provides for vapour pressure compensation.
As well as providing long-term benefits in terms of strength and flexibility, the unique bone structure also makes for significantly faster installations as the design ensures the trowelling-out of adhesive on the surface layer is fast and easy.
Fixer trials have shown that the unique bone-shaped cavities are much easier and faster to fill with adhesive than the conventional square or round cavities.
Less adhesive is required, and trials indicate areas can be completed circa. 30% faster.
Perhaps more unique to the UK market is BAL Flexbone 2Easy – a floating cavity mat system – this means that no adhesive is required underneath the mat i.e. the mat is truly uncoupled!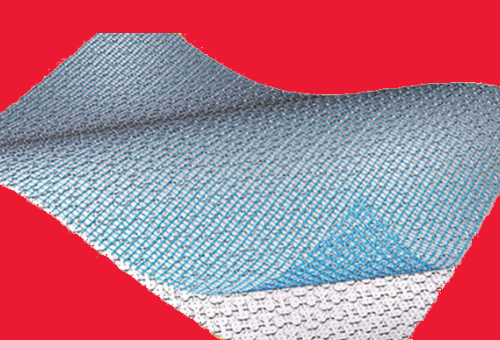 Because no adhesive is required, as long as the floors are level and solid, preparation of the substrate is reduced to a quick sweep of the floor. No removal or residue, no removal of laitance and no priming of the surface is needed. This means that contaminated and stained floors, wooden floors, cracked screeds and mixed substrates can be tiled immediately.
As well as time savings from the lack of preparation, materials costs are also significantly reduced with no need for primers, plus a massive adhesive saving of 2kg/m², when compared to laying bonded cavity mat systems.
Time trials indicate the removal of subfloor preparation for installations provides a circa 50% time saving!
Lengthy waiting times on new screeds are avoided as Flexbone 2Easy can be laid on new sand:cement screeds when they are ready to be walked on, or new anhydrite screeds that aren't fully cured (up to 1.5% CM residual moisture). This means no more projects on hold for weeks on end waiting for the screed to dry!
Fast-track installation is possible as any residual moisture in the substrate is distributed evenly through a system of perforations and channels in the mat, meaning the screed can fully cure under the tiling with no issues.
Because BAL Flexbone 2Easy is laid loose as a floating system, it is perfect for heritage projects where it is necessary to protect historic, sensitive substrates, or rental properties where tenants cannot alter the original décor, plus areas where the ability to change the floor fairly regularly can be a requirement – e.g. retail stores.
Once the matting has been applied, the tiling can begin immediately. Again when tiling onto an uncoupling mat system we would always recommend the use of a flexible tile adhesive that is highly polymer modified e.g. minimum C2 cementitious adhesive.  For large format tile and natural stone, it is recommended to use a pourable thick bed adhesive such as BAL Pourable One, applied with a suitable large format trowel. Pourable thick bed adhesives such as BAL Pourable One will cure and not shrink even when applied at a higher thickness than typically recommended by the industry, ensuring that all voids beneath the natural stone are filled and proper adhesion is secured.
BAL Rapid-Mat, compared to the traditional cavity mat systems, uses less adhesive (approximately 20%) on the matting.
Non-cavity uncoupling mat systems are perfect for use in commercial or domestic environments, with some products actually capable accepting loads on floors following installation due to a condensed profile with almost no compression. This makes them perfect for car showrooms, hospitals, and shopping centres, areas where vehicular traffic is present, and areas with mosaics tiles.
What is certain is that uncoupling systems will continue to grow in popularity and will need to be considered at every stage of the design and build process, particularly with the growth of tiling in areas where it was previously deemed unsuitable.
by David Wilson, UK Technical Services Manager, BAL
First published in Contract Flooring Journal.