BAL, the market-leading manufacturer of full tiling solutions, has appointed Rushden-based Alan Collins as its Product Support Technician (PST) for East Anglia, strengthening its nationwide technical support and training capability.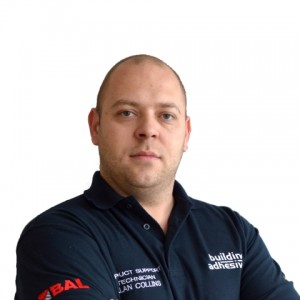 The PST concept is unique to BAL, which has placed strong emphasis on support throughout its history.
Alan's role focuses on practical training and advice for products and service tools, advising on specification, helping to resolve project issues as well as providing advice on all aspects of professional tiling to fixers, contractors and distributors.
In addition, Alan will provide sales support to distributors across the region increasing brand awareness and driving sales of BAL's extensive range of tiling and preparation products which are all covered by a unique 25 year guarantee.
Alan has many years' experience in the tiling industry and joins the company from James Hardie UK, where his role included supporting customers, technical training and sales. Prior to that, he held roles at large national and regional tiling distributors.
Commenting on his appointment, he said: "I'm delighted to join the market-leader in what is an exciting time for the company with the development of innovative products such as BAL Level Max, our new all-in-one levelling compound with FST.  Highly regarded throughout the industry, BAL's PST network embodies what is good about the company – that is quality products backed up by the technical and practical support that can be trusted. It's great to be part of that team."
BAL Product Support Manager, Gary Knowles, said: "BAL was the first adhesive manufacturer to create a nationwide network of Product Support Technicians to provide hands-on, personal support for all tiling industry professionals.
"Alan has a wealth of experience in the tiling industry and his appointment underlines our commitment to investing in leading industry support."