When selecting the right tile adhesive for your tiling project, a number of factors need to be taken into account including the substrate, type and size of tiles and the environment.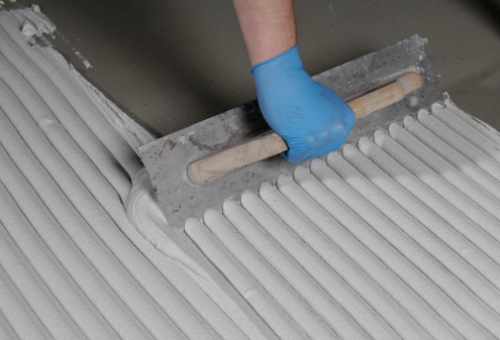 Selecting the wrong adhesive for the intended background/application could lead to unwanted consequences including the cracking or de-bonding of your tiles, causing you financial pain in repair and recompense.
Purely selecting an adhesive or grout on its BS classification is not always the be-all – as other factors may render your selection invalid.
Firstly, let's look at the substrate or background.  Whether you're tiling onto tile-backer boards, tongue & groove floorboards, sand: cement screeds or even existing tiles will make a massive difference as to what adhesive to consider.
For example, where floors need to resist some limited movement or vibration, then a flexible/deformable adhesive should be selected
Polymer modified adhesives/grouts have the addition of either powdered polymers, pre-blended in at the manufacturing stage or can be modified with a liquid polymer additive.  This enhances the physical and mechanical properties of the product.
One such example is BAL's new Rapid-Flex One wall and floor tile adhesive. Fast, strong and flexible, BAL Rapid-Flex One is an all-round adhesive which provides a number of benefits to fixers including extended 30 minutes open time and 60 minutes working time (pot life) giving total control. What's more, it is still ready to grout in just three hours – ensuring fast track project completion.
BAL Rapid-Flex One is enhanced with Fibre Strand Technology (FST) providing enhanced strength and a super smooth consistency for easier and faster spreading. With S1 classification – meaning it's deformable – BAL Rapid-Flex One comes in just one white colour meaning it can be used for any tile type at the great value of a standard grey flexible adhesive.
Tile type and size also plays a significant factor in determining your adhesive and grout. Ask yourself "are my tiles porous?", or are they glazed, fully vitrified, light-coloured/translucent or natural stone. Is the material you are using vulnerable to water-staining? Are you using large format or mosaic tiles and are they mesh-backed?
For example ready-mixed adhesives may be suitable for porous-bodied ceramic tiles, but for porcelain a highly polymer-modified cementitious adhesive would be recommended. Ready-mixed adhesives are also not suitable for floor tiling or for tiles over 300x300mm.
In case of light coloured or translucent natural stone, rapid-setting and drying white cementitious adhesives – such as BAL Rapid-Flex One – are recommended in order to minimise any potential risks of staining. A pourable adhesive – such as new BAL Pourable One – may also be suitable for floor tiling with large format tiling.
This is because they can be build up to large bed depths – up to 25mm in one application for Pourable One – when using uncalibrated stone or for patch repairs.
A new and improved alternative to BAL Stone & Tile PTB, it has all the same great benefits and is also available as just a white adhesive – meaning that only one bag is needed for any floor installation.
A highly flexible adhesive, it is particularly suited with underfloor or undertile heating as it resists thermal movement.
While BAL Rapid-Flex One and BAL Pourable One are suitable for most tiling installations, sometimes you need a little bit more flexibility and deformability when tiling to specialist substrates such as tongue & groove floorboards, single layer chip or plywood floor, floating timber floor, steel, epoxy coating and existing glazed tiles.
This is where you need a specialist tile adhesive such as BAL Single Part Fastflex. A one-part elastomeric adhesive, BAL Single Part Flexible is manufactured with rubber-crumb technology meaning it is highly deformable (S2) as well as sound-deadening, helping to achieve the requirement of Building Regulations Part E (Resistance to sound).
There are other factors which should be considered and more importantly are NOT covered by the tile classification. Some of these include ease of use, coverage, colour, pot life and adjustment time and cost.