Building Adhesives Ltd and ARDEX have celebrated award success at this year's Tile Association Awards.
Held at The Hilton Birmingham Metropole on Friday (24th June), this year's awards were themed "Stronger Together", and recognised the best of the best in the tiling industry.
Success began with David Wilson, UK Head of Standards and Specifications at ARDEX and Building Adhesives Ltd being presented with the Lifetime Achievement Award for his more than 35 years' service to the tiling industry.
Chosen by the TTA Board, this award recognises an individual who has made an outstanding contribution on the growth, promotion, technical or training areas of the wall and floor tile industry during their career.
A respected and leading industry voice, David first joined Building Adhesives Ltd as an R&D Chemist. A member of the Royal Society of Chemistry, David sits on numerous industry bodies including BSI B539 Technical Committee, CEN (European) Standards TC 67 WG3 and the TTA Technical Committee and has been responsible for helping to formulate many of the British Standards that tilers and contractors work to today.
Commenting on his award, Steve Brooks, UK Technical Director, said: "Congratulations to David for winning the 2022 Lifetime achievement award. David has made a tremendous contribution to both the Company as well as to industry over many years and this well-deserved award reflects this. David's in depth technical knowledge and input into many technical documents has been invaluable."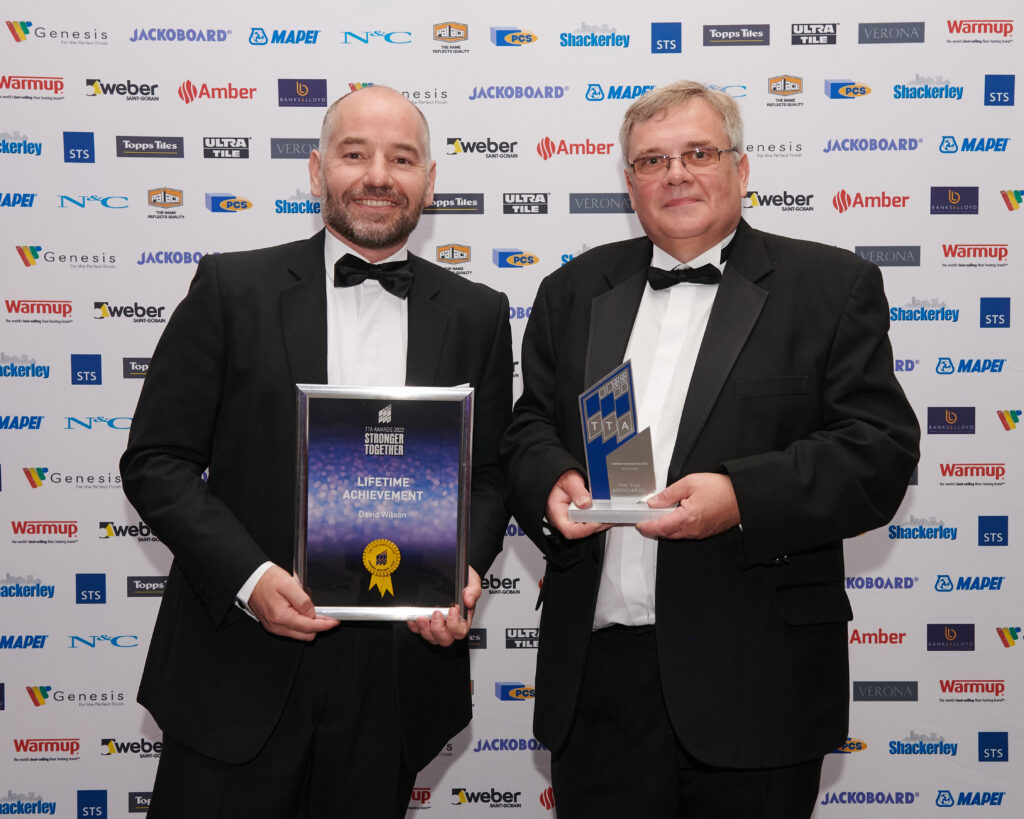 Success continued for Building Adhesives and ARDEX with Stacey Livett, UK Head of Customer Service, being awarded "Employee of the Year".
Stacey was recognised for successfully integrating customer service and order management teams at Stoke-on-Trent and Haverhill, while facing major raw materials shortages, COVID restrictions and force majeures.
Despite these challenging conditions, she has helped deliver record orders for customers as well as ensuring end-users are supported with technical and product enquiries now fed into the joint team.
Commenting on her award, Darren Carty, Finance and Customer Services Director, said: Congratulations to Stacey for winning 2022 Employee of the Year award, Stacey has made a huge difference in the company over the past years and most recently since being appointed UK Customer Service Manager, we appreciate all your dedicated work, and this award is well deserved. Congratulations to you!"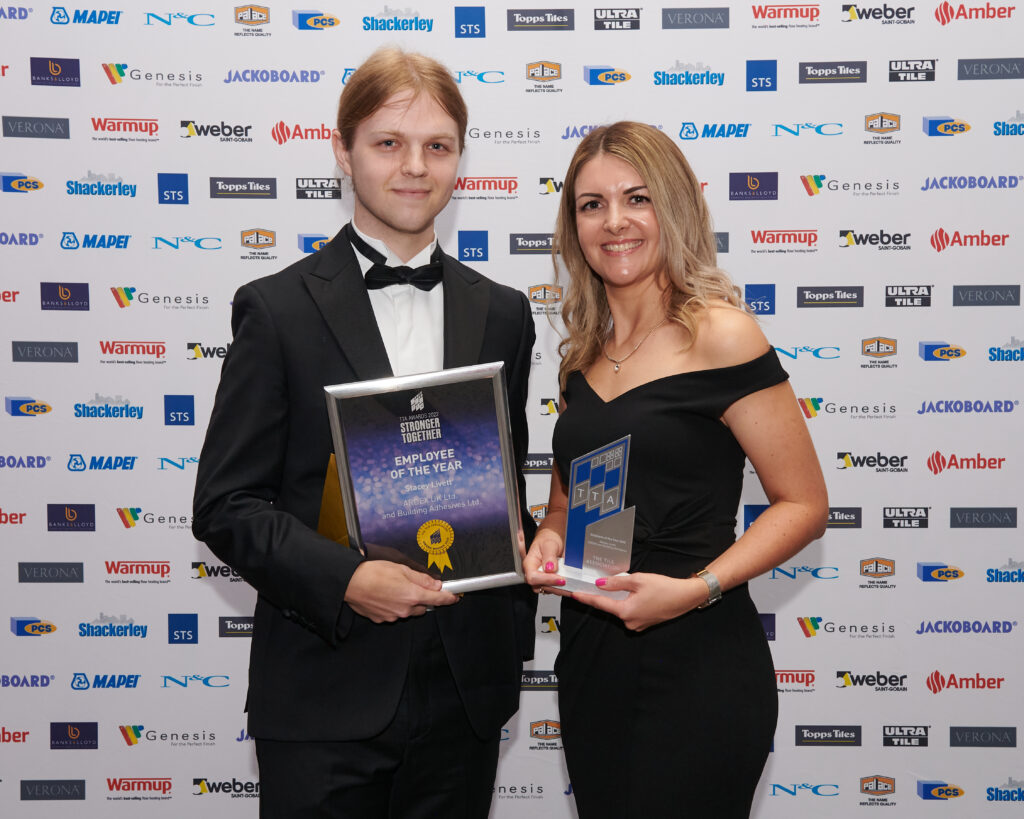 Finally, ARDEX and Building Adhesives tasted success with "Highly Commended" in the Best Domestic Category, for a Dream Pool Project in Staffordshire by Rob Faulkner and his team from Abstract Pools.
The stunning swimming pool, jacuzzi, spa, massage room and changing rooms was completed using a full ARDEX fixing solution. The 590m2 project features a spectacular 3D feature wall with cut-in fountains, a metallic mosaic jacuzzi and changing rooms.
A very labour-intensive project, Rob carried out all the rendering, screed works, and installed the hand-built steam room, formed-experience showers, massage room and high-end changing room.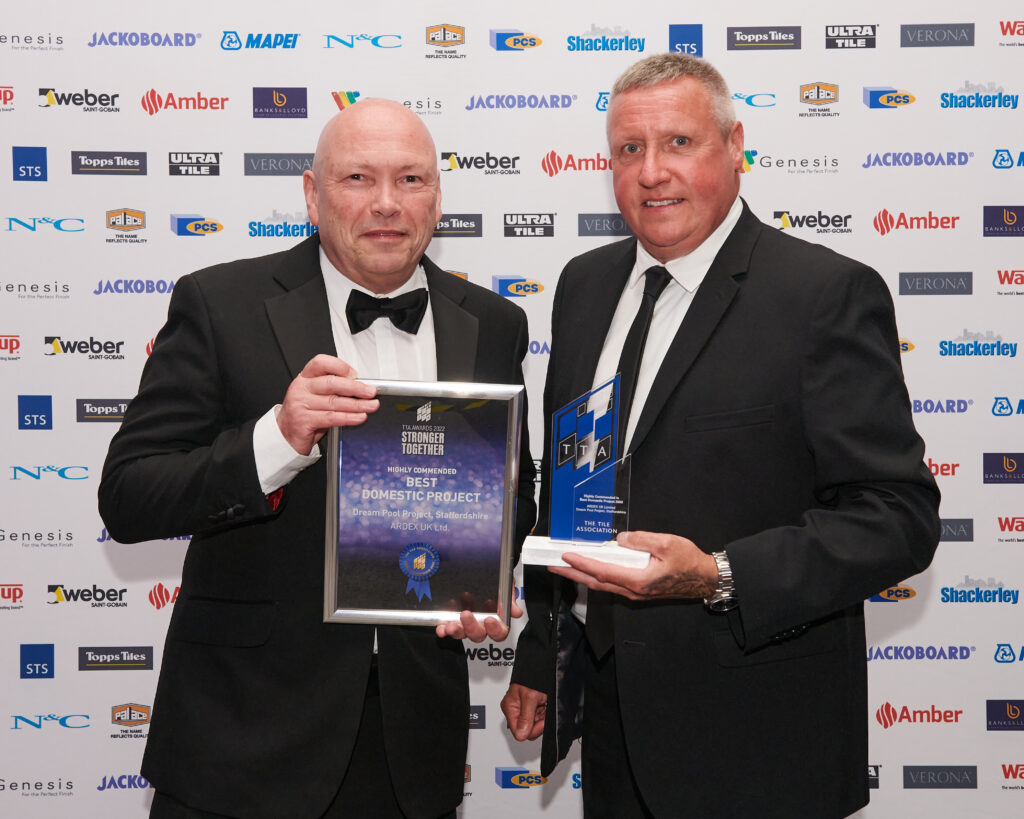 Peter Bell, Managing Director, said: "Congratulations to David and Stacey for their awards which are thoroughly deserved and a reflection of the huge amount of hard work, dedication and commitment to the company and the industry.
"We would also like to congratulate Rob for his award in the Best Domestic category. The Dream Pool project is a truly stunning example of the highest quality workmanship, and we're delighted that he completed it with the backing of ARDEX products and on-site support."
As well as winning three awards, Building Adhesives and ARDEX were also finalists in two others – Best Innovation for BAL Waterproof 1C, and Excellence in Marketing for BAL Grout consolidation.
Peter added: "With two of these awards being decided through a combination of a public vote and judging panel, to win is a significant achievement for everyone at both businesses, and an endorsement from customers and end-users in our products and personnel."
-ENDS-