When tiling in wet areas such as bathrooms, showers, wetrooms, pools, etc. it is vital to make the correct product selection to avoid costly failures.
Ensuring your wetroom, bathroom or shower installation is fully waterproof is perhaps the most important part of any tiler's work, because tiles, tile adhesive and tile grout on their own will not inherently protect against water damage.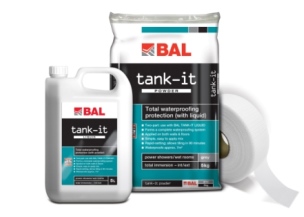 BS 5385 Part 4 states that the use of a ceramic tile together with an impervious tile grout and tile adhesive are not a substitute for a tanked or waterproofed bath, shower or wet room installation. The effects of water damage are well known and documented.
Therefore incorporation of a suitable waterproof membrane is a prerequisite for a wet room installation, either within the building structures or ideally on the substrate surface prior to the application of ceramic of natural stone tiles.
Surface tanking membranes are ideal as they are able to prevent water from tracking through a screed for example into other areas.
In a wet room, waterproofing should be specified on both walls and floors.
A tanking slurry, such as BAL Tank-it, is a typical product that can be used to waterproof backgrounds prior to tiling.
A two-part product, BAL Tank-it has EN Classification BS EN 14891,meaning it is suitable for internal and external waterproofing including terraces, balconies and even fountains, as well as full immersion project such as swimming pools, hot tubs and spas.
Before tanking a background always ensure that it is flat, clean, dry, sound and free from contamination.
For example you may need to render walls, or on floors use a floor levelling compound such as BAL Level Max, to ensure SR1 surface regularity (3mm under 2m straight edge) as per BS 5385-5.
When checked with a 2m straightedge with 3mm feet at each end, any gap underneath the straightedge between points of contact should not exceed 3mm.
With some waterproofing / tanking products it may be necessary to prime the background first  (although this is not necessary with BAL Tank-it).
Make sure that all corners, junctions, penetrations and cracks in the substrate are adequately covered with scrim tape – this stops the tanking slurry from seeping into the background or substrate.
The tanking mixture can then be applied – usually with just a roller, brush, float or standard 4mm notched trowel.
Once applied, leave the tanking slurry to dry – this can be anything from 90 minutes with a product such as BAL Tank-it, to up to 24 hours with alternative products.
When selecting the right tile adhesive and tile grout for your wetroom, shower or bathroom, a number of factors need to be taken into account including the substrate, type and size of tiles and the environment.
For more information speak to your local BAL Product Support Technician or BAL Technical Advisory Service.