BAL – the market-leaders in full tiling solutions – have launched a streamlined grout family including new BAL Grout Flex – a highly flexible grout with high strength and coming in five key colourways – packing a punch with a reliable finish.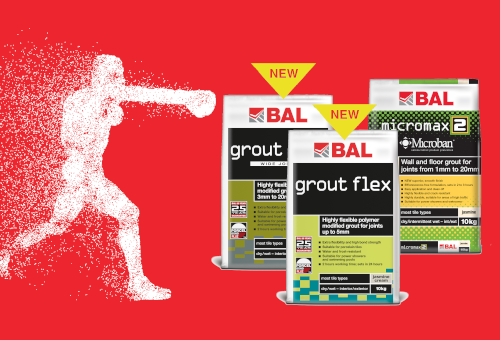 It comes in narrow or wide joint versions – Grout Flex and Grout Flex Wide Joint – for use from 2-5mm (narrow) and 3mm to 20mm (wide) joints.
Easy to apply and mix up with colour consistency whatever the size of mix, it provides a smooth finish.
BAL Grout Flex is available in 5kg and 10kg bags in White, Jasmine, Light Grey, Mid Grey and Dark Grey – with colour consistency in both narrow and wide joint versions. These have been identified as some of the most popular grout colours on the market and ensures that Grout Flex is suitable for a whole host of tiling designs and projects.
With more than 2 hours pot life, BAL Grout Flex gives fixers more time to grout up without worrying that the grout will go off in the bucket – even in hotter conditions – and means larger areas can be grouted with one mix.
A 24-hour set time means longer time to wash off.
As a flexible grout with a high polymer content, BAL Grout Flex is recommended for hard-water swimming pools, power showers and for use with porcelain, ceramics, marble, and natural stone in dry or wet environments.  It can also be used for highly trafficked areas such as shopping malls, changing rooms, restaurants, and leisure centres.
The introduction of BAL Grout Flex and Grout Flex Wide Joint means that BAL have deleted a number of grouts from the range including: BAL Superflex, BAL Superflex Wide Joint, BAL Microflex and the colours of BAL Grout (BAL Grout will still be available in white only).
Micromax2 – still best in class
With the streamlined range of BAL Grout Flex, still best in class and in a division above is BAL Micromax2 – the undisputed champion of the UK market.
Weighing in at 2.5kg, 5kg and 10kg pack sizes, BAL Micromax2 provides a perfect smooth finish on walls and floors in more than 35 colourways.
Trusted for a crack-free, and efflorescence-free finish, BAL Micromax2 is also mould and mildew resistant with Microban anti-microbial protection.
Microban antimicrobial product protection is a built-in active ingredient that enables products to resist the growth of microbes such as bacteria, black mould, and mildew. Microban protection helps products stay cleaner, fresher, and last longer than products with untreated surfaces.
Micromax2 can be used from 1mm to 20mm joint widths and sets in two to three hours for fast track project completion. Abrasion resistant it can also be used in domestic and commercial projects including shopping mall, restaurants, changing rooms and leisure centres (not swimming pools).
BAL Micromax2 comes with the colour matched Micromax sealant range for a seamless finish.
A high-performance silicone sealant, Micromax is also formulated with Microban anti-microbial protection – ensuring clean sealant lines for years to come (with a regular cleaning programme).
Perfect for sealing movement joints in floor and wall tiling installations, it has a high adhesion strength, is waterproof and hygienic and is suitable for surfaces including acrylic, ceramic, fibreglass, glass, glazed and painted in dry or wet interior and exterior environments.
A knock-out finish
BAL's new focused range of grouts provide peace of mind with a fantastic finish to any tiling project.
Perhaps you prefer separate narrow or wide-joint solutions – or one bag for all applications? Maybe you're looking for a longer 2 hour working time or prefer a faster 30-minute working time and a fast track 2-3-hour set – we have the solutions.
Two champions to choose from, a knock-out finish from both.
Alex Underwood, Head of Marketing at BAL, explained the change:
"Our new range of grouts provides a simplified choice for fixers, contractors, specifiers and distributors – a pound-for-pound prize fighter, or a top heavyweight champion so to speak!
"Grout Flex is a solid wall and floor grout with key colourways, whereas Micromax2 is a premium grout with an extensive colour pallet and added benefits such as  Microban and efflorescence-free formula.
"Two easy choices for any budget or project requirements."