BAL Level Max – the innovative new levelling compound from the market-leaders in full tiling solutions – has been named as one of the top-10 best flooring products in the UK following a public vote.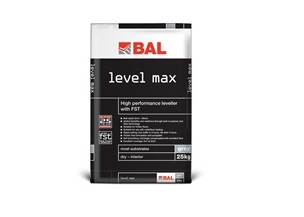 The single part self-smoothing compound, which was launched in August last year, was one of 50 products and services shortlisted for the Tomorrow's Contract Floors Awards 2016.
BAL Level Max was nominated for the awards by readers of the magazine.
Formulated with innovative Fibre Strand Technology (FST) for extra strength and flexibility, BAL Level Max is an all-in-one leveller that boasts a maximum bed depth of up to 80mm in a single application – the largest depth in the market – meaning it can easily level backgrounds with varying heights.
What's more, BAL Level Max only requires a bed depth of 3mm over timber, whereas many alternate products in the UK require a minimum bed depth of 10mm. This means BAL Level Max can provide over three-times more coverage than these products.
Self-smoothing with excellent flow, BAL Level Max has a protein free formulation and is pumpable for large commercial flooring projects.
Product performance recognition is so high with fixers and contractors that BAL Level Max has generated a like-for-like increase in demand of over 400% since launch, compared to all other previous BAL levelling compounds combined.
Alex Underwood, Head of Marketing at BAL, said: "For BAL Level Max to be named as one of the top-10 flooring products and services in the UK is a massive achievement, especially as BAL Level Max had only been launched for 3 months before readers selected their favourite innovations.
"The response to the product in the market place has been truly fantastic, and this vote is real recognition of the product's outstanding features and benefits as an all-in-one product with maximum performance – and especially when considering readers vote for the best products across all flooring product categories, not just levelling compounds.
"Thank you to everyone who voted."
In addition to outstanding performance, users of BAL Level Max also enjoy market-leading peace of mind on all installations with a complete 25 year guaranteed system solution and unrivalled technical support, including BAL Technical Advisory Service and on-the-road Product Support Technicians for project support from start to finish.
To find out more about BAL Level Max visit www.bal-adhesives.com/products/level-max/