Building Adhesives Ltd, the market-leading manufacturer of tile adhesives, grouts, sealants and ancillary products, has appointed Matthew Leaver as their new national Business Development Manager, strengthening the company specification support.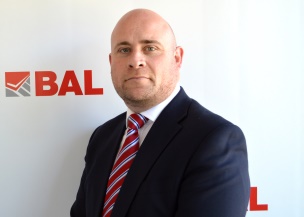 Matthew's role includes working with architects, designers and specifiers to support them on M40/M20 specifications, deliver project support and provide RIBA-accredited CPDs.
He said: "I am delighted to join the market-leader in tile adhesives in what is an exciting time in the industry, particularly the launch of the NBS National BIM Library where BAL became one of the first tile adhesive manufacturers to sign up.
"To work with the industry's market-leader provides many unique solutions and services for the specification sector.  I look forward to continue working with designers and architects for BAL,  utilising our great products, people and the technical knowhow available to assist them throughout a tiling project. Support through our free PowerSpec specification tool,  to create concise, technically accurate and up-to-date specifications for tiling, as well as teams of experts who can provide designs and specifications completely free on their behalf, are just part of the added-value BAL provides every day."
Matthew has more than 14 years' experience in architecture and design specification working for tile manufacturers and distributors including Porcelanosa, CTD/Worlds End Tiles, Domus and H&R Johnsons.
He has worked with architects and interior designers including Fosters, Gensler, BDP, Johnson Naylor and Zaha Hadid on projects including The Heron Tower, Helter Skelter and the Deutsche Bank HQ in London.
BAL Head of Marketing, Alex Underwood, said: "With more than 50 years of technical innovation and know-how behind us, we are relied upon by professionals for product quality and outstanding technical support throughout all stages of a project from design to completion.
"Matt's appointment underlines our continual investment in leading the industry in support and is proof of our commitment to working closely with architects, designers and specifiers to deliver high-quality projects