BAL – market-leaders in full tiling systems – have a launched a new external tiling range for easy installation of slabs and 20mm porcelain paving.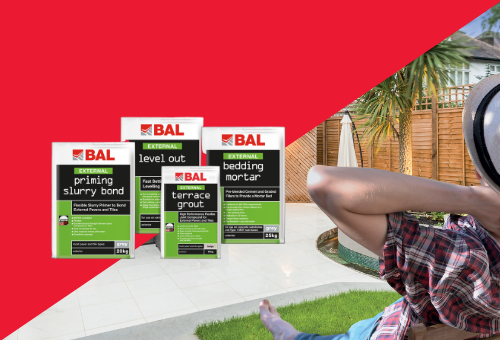 The simple range provides a familiar system for the most-common process of installing patios and ground floor terraces.
Using the market-leading performance and quality standards, the new range provides improved installation for the two main build-ups in the UK: concrete or Type 1 MOT, or concrete which is in perfect condition for tiling.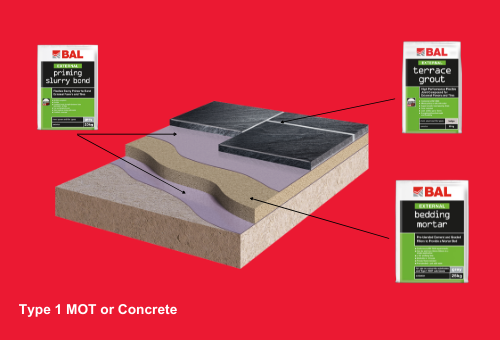 When installing onto concrete or Type 1 MOT, easy fixing is made possible with three new BAL External Range Products:
BAL Priming Slurry Bond – a flexible slurry priming coat for bonding external pavers and tiles.
Fast and simple to use – only requires mixing with water
Provides excellent bonding strength between base and pavers or tiles
Excellent coverage of 8m2 at 2mm thickness
Brush, roll or trowel on
Fully compliant with BS 7533
BAL Bedding Mortar – A pre-blended mix of cement and graded fillers to provide a semi-dry mortar bed
Simple to use, just add water and mix in a force action mixer
Can be laid from 10mm for concrete, or 25mm for Type 1 MOT, to 100mm in a single application
Gives more than 1 hour working time
Walkable in 12 hours n Freeze/thaw resistant and conforms to BS 7533 requirement
BAL Terrace Grout – Provide the perfect finish with this high performance flexible joint compound for pavers and tiles
Super smooth and hard-wearing finish
Mixes quickly on-site with water
Exceptional bond strength and flexibility
Joint widths up to 15mm
Available in 4 key colours – beige, light grey, dark grey, charcoal
Frost and heat resistant n Conforms to EN 13888
When fixing onto concrete which is in a good condition for tiling, but may need smoothing out, BAL is launching new BAL Level Out, a fast-setting one-part external levelling compound for smoothing rough or impact damaged concrete.
BAL Level Out has a number of performance benefits including:
Suitable for external applications
Fast-setting – walkable after 2-3 hours
Apply from 2mm to 20mm thick in a single application
Smooth flow and excellent coverage – 3m² at 5mm thick
Water content can be reduced for gradient levelling (i.e. creating falls etc)
30-minute bucket life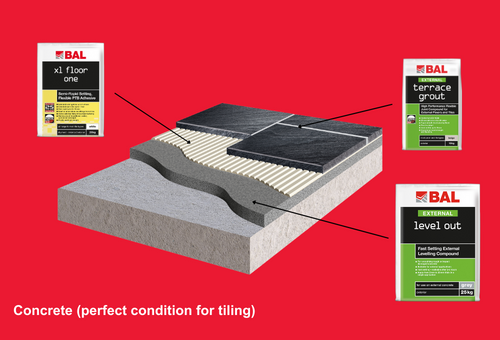 When fixing direct onto concrete or leveller, BAL recommends the use of BAL XL Floor One.
BAL XL Floor One is a semi-rapid-setting, thick-bed tile adhesive, perfect for fixing large format porcelain, slabs and natural stone.
With bed depths up to 25mm, it is suitable to level minor inconsistencies. As a pourable adhesive it makes tiling easy over larger areas. With a thixotropic formulation, ribs hold their shape and easily collapse to ensure solid-bed fixing. Back-buttering is not required with flat, level surfaces.
All BAL's products are freeze/thaw resistant and use the most up-to-date technology ensures long-lasting patios and terraces.
A straightforward system, it's the easiest external fixing range under the sun! No complex primers, no complex preparation, just trusted market-leading products!